2020 AJSA National Classics
Attention Juniors:
Memberships are due by May 1 to complete entries for the 2020 National Classic
Any memberships received after May 1 will be subject to an additional $50 priority fee*
Memberships received after 12 p.m. the same day as the entry deadline are NOT guaranteed prior to the deadline. Get a head start here.
NEW Junior Division Public Speaking Contest Format. Get information here.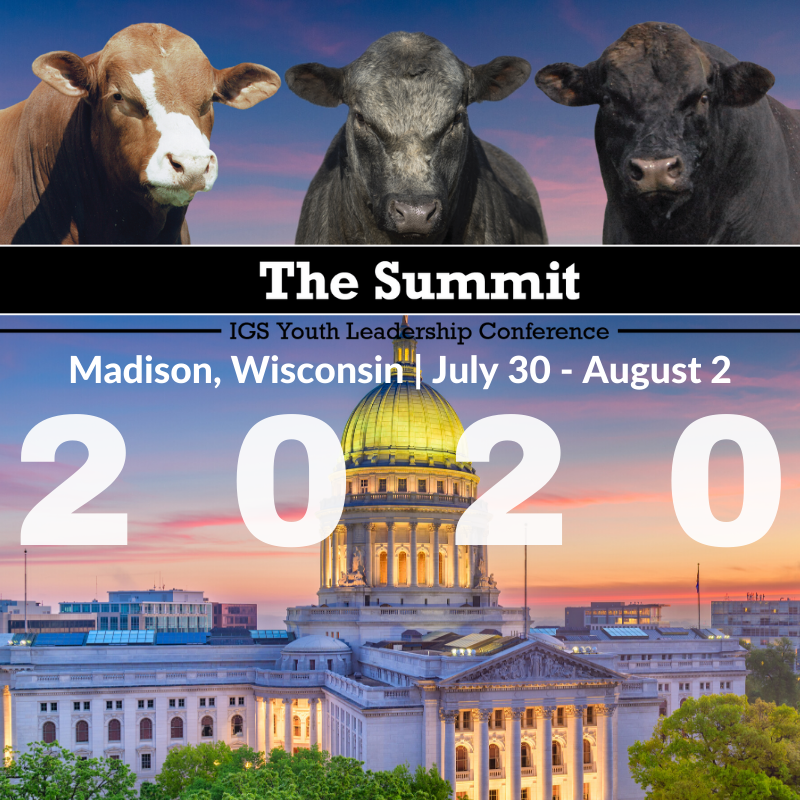 Start planning to attend the 40th Anniversary of the 2020 AJSA National Classic!
Hotel Scholarship Application - download
Hotel information:

Hotel headquarters for the 2020 Junior National Simmental Classic in Grand Island, NE
Boarders Inn & Suites Grand Island, NE
3333 Ramada Road, Grand Island, NE
Please call to reserve your room at 308-384-5150 and ask for the Simmental block.
Group Rate: $99.00 plus tax

2nd hotel- you can book online with this hotel
Ramada Midtown
2503 South Locust St.
Grand Island, NE 68801
308.384-1330- mention 2020 Junior Simmental block
$101.95 + tax - the Cutoff date is June 7, 2020.

3rd Hotel:
Holiday Inn Express & Suites
Block Name: Simmental Classic
Group Rate: $149.95 plus tax for 2 Queen Beds
2018 IHG Torchbearer Award Winner
* Cut Off Date of May 15th, 2020
308-675-1118


National Classic Promotes Breed, Primes Future Generation
Real-world genetics and youth development meet at Simmental's premier junior show.
More than a stock show, the recent American Junior Simmental Association (AJSA) National Classic is about building the future of the agriculture industry – all the while furthering demand for the Simmental breed.
Announcing
The 2019 Merit Award Winners 
Gold Merit Scholarship Winners:
Ethan Sylvester, Wamego, Kansas; Cody Long, Creston, Iowa; Kaitlin Houck, Americus, Kansas; Bennett Walther, Centerville, Indiana; Cole Liggett, Dennison, Ohio
 Left to right: Lori Eberspacher, Mark Smith, Tonya Phillips, Emily Brinkman, Holi Hatmaker, Bennett Walther, Kaitlin Houck, Cole Liggett, Scott Cowger, and Greg Burden
Silver Merit Scholarship Winners:
Tyler Diffey, Lexington, MS; Kennedy Early, Leeton, MO; Cody Eberhardt, Wheatland, CA; Lauren Glick, La Prairie, IL; Luke Harker, Hope, IN; Luke Herr, Arcadia, IN; Shaylee Ison, Atlanta, IN; Whitney Olsen, Alexandria, MN; Paige Peine, Hastings, MN; Cara Smith, Pleasant Garden, NC; 
Clay Sundberg, Arlington, IL.
Left to right: Left to right: Lori Eberspacher, Mark Smith, Tonya Phillips, Emily Brinkman, Holi Hatmaker, Clay Sunberg, Cara Smith, Kennedy Early, Lauren Glick, Tyler  Diffrey, Luke Harker, Scott Cowger, and Greg Burden
Congratulations!